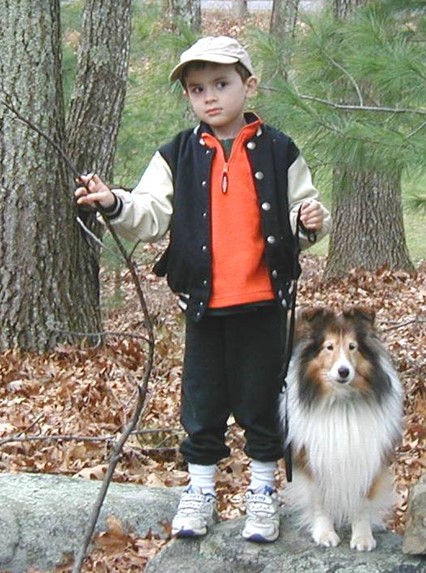 This is my son, Connor, when he was three and Ryker.

The Safe Kids/Safe Dogs Project was started in 2000 in response to a challenge from my husband.
I had two clients who were allowing dangerous situations with their puppies and children to occur. One was a Beagle and the other a Bichon Frise. No one wanted to believe that such cute dogs could cause so much damage. The truth is: any dog can and will bite. The bites may be out of fear, lack of manners, play gone too far, the dog is being expected to tolerate things that are not fair, maybe she is not feeling well or simply wants to be alone for a bit..
ANY DOG CAN BITE. There is no such things as a "bomb-proof" or non-biting dog. If a dog has not bitten yet it is because the dog has chosen NOT to bite.
Today, The Safe Kids/Safe Dogs Project has been expanded to cover not only children and dogs but adults, different professions, dog owners, dog parks and even vet clinic/grooming salon waiting rooms.
There are many free resources for people to use from handouts to booklets. If you use any of the materials, all I ask is credit back to this program.
All pictures on this site are either property of West Wind Dog Training/The Safe Kids/Safe Dogs Project, were used with permission or were found on free pages.
Contact The Safe Kids/Safe Dogs Project
This site was rebuilt and reworked in December of 2019.